Birdhouse full colour printed & personalised direct mail product
This full colour printed Birdhouse is perfect for your springtime mailing. As all sides of the Birdhouse can be printed in your own design, the Birdhouse is the perfect addition to your Spring marketing campaign. Tap into the concept of renewal and surprise your clients, customers, contributors or relations with a colourful DM. Besides springtime mailings, the Birdhouse fits different kinds of communications, like a change of address notification or an environmental related statement.
The Birdhouse direct mail is sent as a DIY project. The receiver can easily fold the base of the house and attach the roof. This product has it all: a unique theme, a personalised design and a powerful interaction with the receiver. Please fill out our sample request form if you would like to receive a free sample of the Birdhouse direct mail.
Birdhouse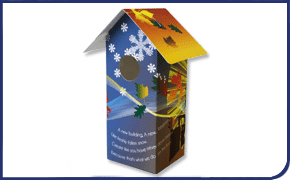 A unique product with a high attention value. All elements of the Birdhouse mailer are water resistant, so the receiver can actually hang the Birdhouse outside.
[/column]
Full colour envelope
The Birdhouse can be sent in a full colour printed envelope. It is possible to match the design from the envelope to the design of the Birdhouse to create a matching mailing.
Additional card
The Birdhouse comes with an additional card, which creates more space for your communication. If you would like to address the mailing, the personal details of the receiver will be printed directly onto the card. As the envelope holds a window, this eliminates the need for address labels.
Addressing
Optional we can address your remarkable mailing. Against an additional charge we can print the name and address details on the envelope. You can decide whether you want to send the mailing yourself or if you would like us to send the mailing for you.
Shipping costs
If desired, we can send the mailing directly to your clients. Depending on the product, quantity and processing time we will examine which delivery service suits best.