2D Card Windmill (A6) as effective direct mailing
Apart from the 2D Card (A6) with the Elephant pop up, the 2D Card with Windmill is also a great example of an effective direct mailing. The pop-up makes the 2D Card unique: the mailing is sent in an envelope but the pop-up appears when the receiver opens the card. You can make your 2D Card extra unique by creating a special shape for the pop-up elements in this design.
Besides the fact that this 2D card is a very effective DM product, it is also important to mention that the card has appealing postal charges since it's a lightweight mailer. This 2D Card can be used for all kinds of communication purposes. Please do not hesitate to request a free sample or non-binding quotation. Should you have any questions regarding the 2D Card Windmill or the customisation possibilities, please contact our employees.
It is also possible to send the 2D Card in another size, as for example in A5. For discussing these possibilities, please contact one of our employees. Are you convinced about this effective direct mailing? Then please do not hesitate to request a free sample or non-binding quotation.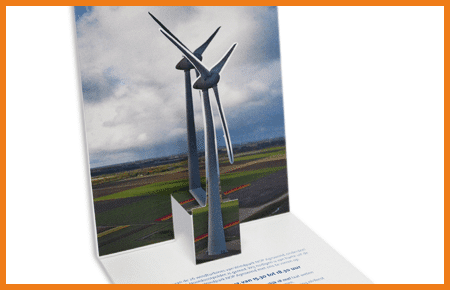 A6 2D Card
The format of this 2D card Windmill is A6. When the card is opened it measures is 148 x 210 mm. An advantage of this direct mailer is that it's a lightweight. This has a positive effect on the postage rates.
Construction pop up
The pop-up element is attached to the inside of the A6 card. Due to this construction the pop-up rises when the 2D card is opened.
Custom-made pop up
The pop up attracts the attention of the reader. Customising the pop up to your message adds value to the overall mailing and makes your message more memorable. Please contact our employees to discuss the possibilities regarding the customisation of your pop-up 2D Card.
Addressing
Optional we can address your remarkable mailing. Against an additional charge we can print the name and address details on the envelope. You can decide whether you want to send the mailing yourself or if you would like us to send the mailing for you.
Shipping Costs
If desired, we can send the mailing directly to your clients. Depending on the product, quantity and processing time we will examine which delivery service suits best.
Examples of succesful direct mail